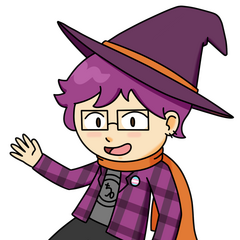 jackie aka jax
Hi! Here is a site to showcase all my work. Check it all out, message me if you have any questions or comments, and enjoy!
Active Projects
Podcasts
Writing
Jax on other people's projects
Other
Support
Like what I do? Consider tossing me a few bucks or sign up as a monthly supporter!
About
My name is Jackie or Jax and I'm a podcaster, writer, game dev, project manager, musician, artist, and general jack of all hobbies.
I'm 30+, working full time in an unrelated field, and could use the support to help fund my hobbies and also fund people to help me with my hobbies!
But also if you just want to see what I have going on, feel free to peruse my links and enjoy!
Things You Should Check Out
Under construction!
Podcasts
McElroy Adjacent
The Adventure Zone: A ttrpg podcast by the McElroys. Four campaigns finished. New campaign starting.

The Besties: Griffin and Justin McElroy and their friends Russ Frushtick and Chris Plante talk about video games, old and new. Ongoing.

The Empty Bowl: A calm, cereal focused podcast by Justin McElroy and Dan Goubert. Ongoing.

My Brother, My Brother, and Me: Justin, Travis, and Griffin McElroy give advice and make goofs. Ongoing.

Sawbones: Dr. Sydnee McElroy and her husband Justin talk about medical history and current trends. Ongoing.

Til Death Do Us Blart: Justin, Travis, and Griffin McElroy and Tim Batt and Guy Montgomery watch and talk about Paul Blart Mall Cop 2 every Thanksgiving until the end of time. Ongoing.

The McElroy Brothers Will Be In Trolls World Tour: McElroys reveal the 100 percent true story of how they will eventually appear in the Dreamworks film Trolls 2. Finished.
News
Citations Needed: A news podcast about the intersection of media, PR, and power, hosted by Nima Shirazi and Adam Johnson. Ongoing.

Even More News: News podcast by Cody Johnston and Katy Stoll. Ongoing.

Worst Year Ever: A news podcast about the worst year ever (2020) and the worst year ever part 2 (2021) by Cody Johnston, Katy Stoll, and Robert Evans. Finished